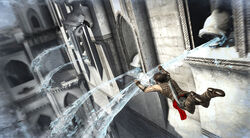 The Power of the Djinn are strengths based within the elements of nature. As spiritual creatures, be they Ifrit or Marid, Djinn have untold control over their specific environment or elements. In certain cases, Djinn can grant humans control over elemental powers and time without the use or assistance of the Dagger or Sands of Time.
Background
In The Forgotten Sands the Prince never uses the powers of the Sands of Time, but is instead granted the powers of the Djinn by Razia, a Marid and guardian of King Solomon's former kingdom (now governed by the Prince's brother, Malik) and the Reservoir below in the city of Rekem. The Prince uses Razia's powers to battle the Ifrit Ratash and his Sand Army.
Known Abilities
Video
See Also
References
Community content is available under
CC-BY-SA
unless otherwise noted.